As director of Morpeth Farms Pty Ltd, I am writing to support CALDER Permaculture.
Over the last two seasons, we have used Russell's product due to his willingness to support our local sporting club.
This decision has been fabulous for the orchard company, with his project an absolute game-changer in the horticulture
sector.
Our requirements over the coming seasons will increase dramatically, and I would imagine now that I have completed the
trials with such huge success, this product will become in high demand.
It can keep the tree nice and dark and green, healthy to grow the best fruit we can. It has reduced our fertilizer inputs and
water requirements, so the economic and environmental impacts are both significant.
Dean Morpeth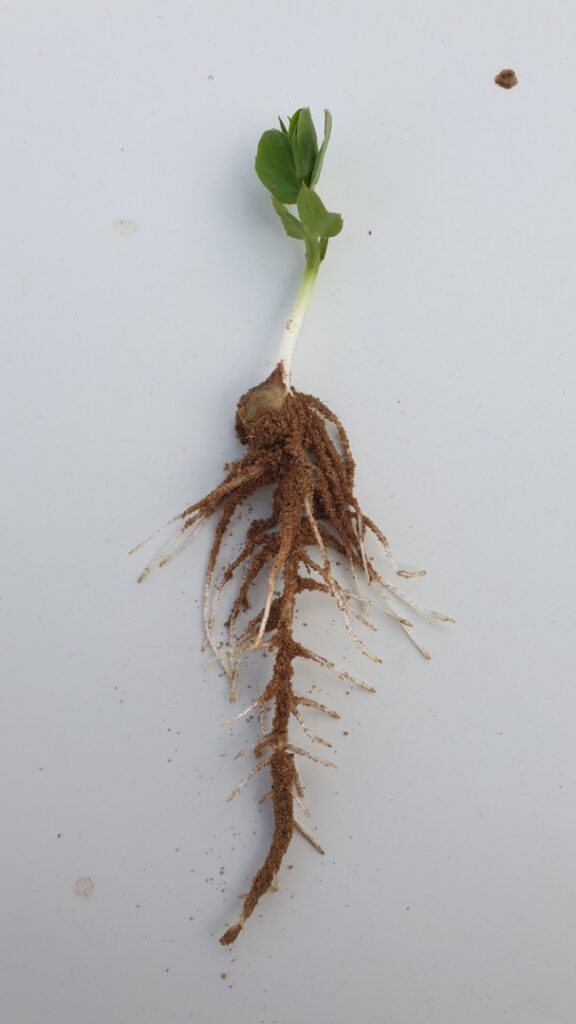 Look at the roots on this newly emerged pea.
Calder Permaculture Stimulator at 5 litres per tonne/seed. No other product.
Grown organically.
Cheers
We are repeat customers to Calder Permaculture after having astonishing results using Stimulator on our Stone fruit.
After constant struggles with a particular variety, we have just produced the best crop ever in 6 years. Along with improved fruit size, after treating with Stimulator our most recent planting leaped out of the ground and new stock take off from their first treatment, with healthy root systems and good buds.
We have also noticed a marked improvement in the water-holding capacity of the soil. Where water would previously run straight off, it is now soaking into the ground. The impenetrable, sealed-up crust on the soil's surface has softened and opened up, allowing better access to water for the plants.
Our trees all over the property are now vibrant green, any yellowing of foliage has subsided.
We also are impressed by how easy Stimulator is to use, just measure it out and away you go!
We highly recommend Stimulator to other growers. 
"As organic growers would know, both the composition and effectiveness of the products we use are of high importance, along with the all-important value for money.
Since using Stimulator®  on our almonds we have seen an impressive change in both the colour and growth of our trees. We have had no sign of Fungal or Bacterial disease since applying Stimulator®.
We are seeing worms appear where we have never seen them before, including in sandy soil containing 15 year old trees.
Our ground is alive with good bacteria like never before, and we are reaping the benefits through the health of our plants, and the output at harvest time.
Stimulator® pays for itself in the benefits it provides to both the land, and plants – from root to foliage, and we have no hesitation in recommending this product to anyone."
"We started using worm castings in the 2020 growing season by applying directly to the seed pre sowing on our Nasaa certified organic farm.
From our experience with this product.
It helps with quicker emergence and appears to increase the growth rate of the young plant."
Rowan Murphy – Farm Manager
Nutri-green Pty Ltd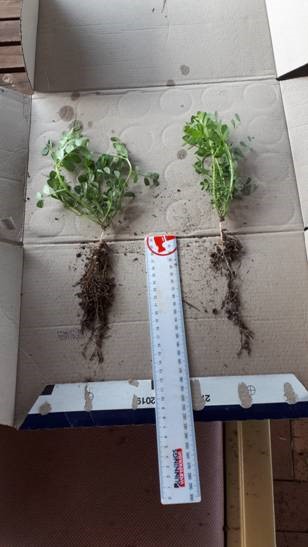 I used the stimulator on a barley/vetch crop approximately half the crop was treated. I had great results with the treated area being grazed in preference to untreated area. The treated area held on much better when the ground started to dry up. The nodulation and root systems on the vetch was almost double on the treated area.
I have been using stimulator liquid worm casting on brassica and cucurbit crops in the mallee region.
I have found an increase in root growth which increases the plants ability to uptake nutrients from the soil and help the microbial life in the ground. Visually, the plants look healthier and stronger and the head quality of brassicas has improved.
I have noticed higher brix readings in the plants and a higher tolerance of weather conditions- better disease resistance in wet weather or humid conditions and improved ability to deal with heat stress in summer ( less wilting of leaves and /or fruit loss )
Overall, stimulator has definitely added value to my crops and soil health.
I first used Russell's product in 2002 on Barley that was suffering from Rizoctonia the crop was also anaemic. The product was applied in July at 5lts per Ha mixed with Low Volatile Ester in crop spraying program. The crop picked up within a week and tillered very well and the root growth and improved significantly there were noticeably more fibrous roots and the crop went a dark green colour. I was happy with the crop produced.
As Russell was not at the time producing large volumes of the product I sourced alternative products. They where more expensive but worked well. In 2019 Russell informed me that he was producing large volumes of his product he was close and handy. So I decided to use Stimulator for the 1019 season.
Lupins performed well given the frost and dry finish. Barley produced 12 bags to the acre. I used 27:12 with 1% zinc at sowing at 50 kg per Hectare. Then followed up with Stimulator at 5 lts per acre as part of my crop spraying program mixed with herbicide as required, One application of Stimulator was used.
I was very happy with the response of Stimulator The Paddock was dark green all over. At the time of applying Stimulator the Barley had a mild infestation of aphids , i sprayed herbicide and Stimulator ,not intended to treat the aphids. But I noticed that the aphids disappeared within a week after application.
In 2019 Pasture in Piangil had a severe infestation of red legged earth mites at the time of applying Stimulator at 10lts per Ha. The mites disappeared within 7 days. The pasture produced well and I did not need to remove stock from grazing. I have no doubt Russell's product (STIMULATOR ) worked as well as the more expensive products i have tried in the past.
I used Stimulator on established trees. One application in early August and one application early October, at 100 litres per hectare. I have seen noticeably less stress on the treated trees during periods of hot weather. Good new shoot growth.
Also there seemed to be less mite damage on the treated trees as opposed to the untreated trees. Rows adjoining each other.
These trees where struggling prior to application of the Liquid worm castings. I also used stimulator at approximately 50 litres to 1000 litres added to the planting water used to form the holes for new plantings.
These trees where delivered at the end of June. Then stored in the cool room till October. They were shooting roots and buds at the time of planting. After planting there was no sign of stress, and the trees exhibited dark green leaf and grew exceptionally well. They have not look back since.
I used Russell's product about 17 years ago as a seed dressing on pasture seed. The treated seed germinated in 2 days and was at the two leaf stage as opposed to the untreated seed that took at least five days to be visible. I was very impressed with the results.
Last year i again used the product and used it as a foliar application on to cereal and pasture mix. Test areas where noticeably Greener, denser growth, and grew at a faster rate. Also stock grazed the treated areas in preference to untreated areas.
I was very happy with the results on all plants the product was applied to including ornamentals, pot plants and vegetables.
Hi Russell,
See the attached pictures as discussed. These pictures were taken at 8pm on the 4-1-19.
The temperature leading up to that day was extreme (I recorded just over 47 at my place), below are the recorded highs from the Swan Hill aerodrome which are generally slightly cooler than my place.
December 24 – 35.5
December 25 – 38.9
December 26 – 40.9
December 27 – 43.6
December 28 – 43.0
December 27 – 35.4
December 30 – 37.1
December 31 – 38.2
January 1 – 38.2
January 2 – 37.1
January 3 – 39.3
January 4 – 46.2​
In the 3 years previous to this year I have suffered significant burn to the walnut crop during temperatures in the high 30s as well as new growth having died and\or wilted badly. I would estimate the damage to the crop at possibly 20%.
The trees had 1 dose of Worm Juice (Stimulator) on the 3rd December at 50lt per Ha and came through that heat wave well. In the pictures the leaves still look healthy and full, nuts appear unaffected and new growth is still strong. There is the occasional burn on odd nuts however it is such a small number that i see any damage as being insignificant at this stage.
I am very impressed with the results so far and intend to continue the program as the health of the trees has improved massivly already and with continued applications I believe that they will only get better. After the initial dose of 50lt per Ha I intend to do a monthly dose of 20-25lt per Ha during the growing season.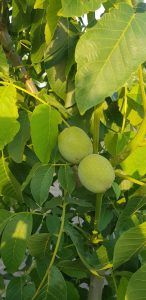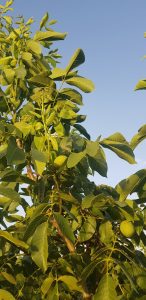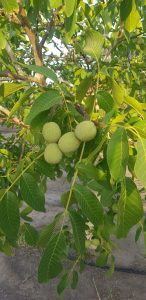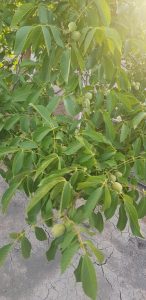 I started using liquid worm castings ( STIMULATOR ) In January 2018. I have since noticed the following.
Larger leaf size, !00% improvement in tree growth.
The soil is retaining more moisture resulting in significantly less  water usage.
(BY AT LEAST 30 %)
Sweeter larger fruit particularly in the early varieties. No extra inputs have been required e.g. potassium or calcium. I would highly recommend this product to any farmer. Just try it for 12 months and see for your self
Very successful 2019 Barley Crop trialling Russell's worm juice. Russell is a very knowledgable man with years of experience. Very easy to deal with. Looking forward to another successful 2020 Crop using the products supplied by Calder Permaculture.
I've been using worm stimulator for two months and have seen considerable gains and differences regarding more growth, better heat tolerance and improved vibrancy of the plant. We grow warm climate vegetables. I am going to continue using the stimulator for both it's sustainability in the environment and it's positive effects on our crops.
After using worm stimulator I've noticed vigorous growth, better tolerance to pests and a  stronger plant.  The sustainability and organic nature of this product is a massive bonus.
Just wanting to say thanks for your information regarding worm farming. I have been so impressed with your knowledge on this subject. I constantly tell my friends about what you have done on your property at Nyah West. With my relocation to Queensland I have set up a fairly large area at my place and acquired 1000 compost worm eggs. They have hatched and are fat and active, feeding well on the food I have made available to them thanks to your advice. My grandkids are keen to have some working at their places. It would be great if everyone got an interest in improving their properties with worms.
Keep up the good work.
I grow stone fruit at Beverford. This year has been quite stressful on the trees. On many days the temperature reached the high forties, trees had heavy crops and the foliage was not healthy. I applied 50 litres of worm juice (stimulator) per hectare to my worst trees. I have seen a steady improvement since the first application. I am now looking at including this product with my overall fertigation program. I believe that this will allow my trees to utilize the fertilizer better by encouraging small root growth.
Hi Rusty
We wanted to thank you for making Stimulator such a great product and available commercially.
We've know for some time that we needed an organic product to bring back ground health and therefore tree health. The results with Stimulator have been incredible,  our Walnut trees have never looked this good with continual growth through some extreme  weather conditions,  13 days in January above 40 decrees with a well above average crop. We were pleased to notice a very high percentage of triple fruits and I've included a pic in this email just to show off.
We've made Stimulator a regular part of our program and look forwards doing business with you into the future.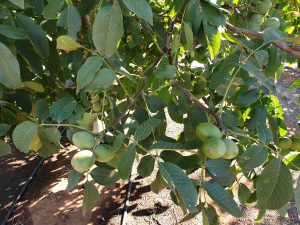 Hi Russell, I am very happy that you are producing worm castings locally, its a great product. After just a short period the benefits are easy to see. The lush leaves and health of the trees are amazing. The feed back I have received from my customers was it's so sweet and tasty.
I will be using this product on a regular basis. In my opinion it produces quality fruit and reduces input costs, that can only be a good thing.